If u think it's illegal, you're totally wrong!!
How to crack?
1) Open the document and do a "Save As…" specifying Rich Text Format (RTF). It'll end up being called something.rtf
2) Open the RTF file by double-clicking on it. It should look identical to the original Word file.
3) Save the RTF file with a new name as a Microsoft Word format document.
4) NOW YOU'll HAVE UNPROTECTED MICROSOFT WORD DOCUMENT!!!
Why this happen?
Word permits easy export into other formats, but expresses much Word-internal structure there, to facilitate bringing the document back. However, these other formats permit some interesting ways to manipulate ther Word doc that Word itself doesn't allow.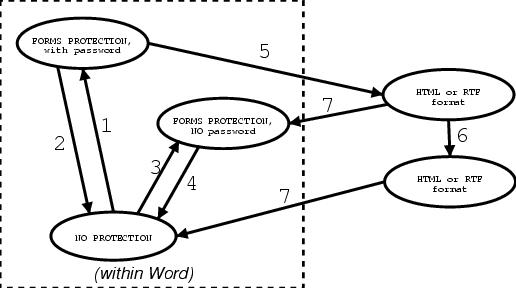 5. Export into HTML or RTF format. (With HTML, you'll get a warning saying the password will be lost. With RTF, you'll get no warnings.)
6. You could try editing the protected material directly here, but you don't get the WYSIWYG functionality of Word. No problem: in both HTML and RTF, you'll see some text expressing the fact that forms protection is turned on. Delete that text.
7. Import the document back into Word. If you edited out the protections, you now have an unprotected document. Even if you didn't edit them out, you now have a password-free protected document, which can be easily turned into an unprotected doc.