UPDATE ON 13 JANUARY 2008
Today i receive email from Gyutae. Here the full description
Hi krazl,
Thanks for voting for Winning the Web here: http://www.krazl.com/blog/?p=39

However, Tyler is being very anal about the rules and he says that technically your vote doesn't count. Could you please edit your post so it's over 300 words? You're at 281 now. That way your vote will count and you'll have a chance at $100 when the contest ends.

Thanks,
Gyutae
www.winningtheweb.com
I'm short of 19 words. So now Tyler, I'll give you full description why i vote for Gyutae.
REASON
1. Your icon:-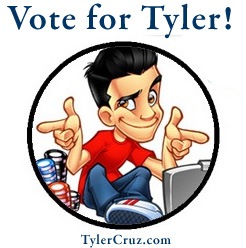 Seems to cartoon"ish" with me. Maybe your target audience is children under-age, so selecting your representative is more crucial in REAL-LIFE. If you are promoting TRANSFORMERS or any NARUTO stuff, so I think your cartoon image would be suitable.
2. Promoting Gambling links on ADS
WTF man!! don't you know your hard-earn online ads will vanish  instantly when you gamble.  And on marketing side,  you can't jeopardizes your profile by showing "I'm addicted to gambling". Maybe by creating web-pornblog, your gambling ads would be suitable there.
This two is currently enough for now. I'll insert more when Gyutae requesting more.
ROGER n Out..
krazl
M3z w1t d b3z..d41 l41k d r3z
04 January 2008
Today I recieve opportunity to make money online by voting blog! I suspect both of this contestant cannot compete in real-life politic as this will be their news:-
"VOTE FOR ME TO BECOME YOUR "D.O". Vote me and you'll win free t-shirt and $100″
WTF!! So low in money to become politician.. hehehe
Read full story here. BTW, I'm voting for "Gyutae Park" coz he owe me not so lousy T-shirt:-

I'm targeting to win $300 prize but there's a catch:-
How to enter for a chance to win $100

Write a post on your blog about the contest and why you think either Winning the Web or Tyler should win. Whoever you pick will be your vote. You will only be eligible for a cash prize if you vote for the winning blog so pick wisely.
In your entry post, be sure to clearly state who you are voting for and why. Also, mention this contest for which you are voting for and link to both TylerCruz.com and WinningtheWeb.com.
After you have finished your entry post, leave a comment with the post's URL on either this post or on Tyler's depending on who you are voting for.
Let say 1000 people clicking for Gyutae Park, that means my chance of winning is 1/1000 = 0.1% . So I don't see i'm on winning side, unless Gyutae Park pick me on this lousy documentation.
i wonder how i'll be look like when wearing his tshirt:-


WAH!! it's totally not so me!!
————-It think WTW will win coz he much more superb in Marketing and offering me T-shirt plus $100——
p/s: Now WTW… where's my t-shirt and $100? hehehe